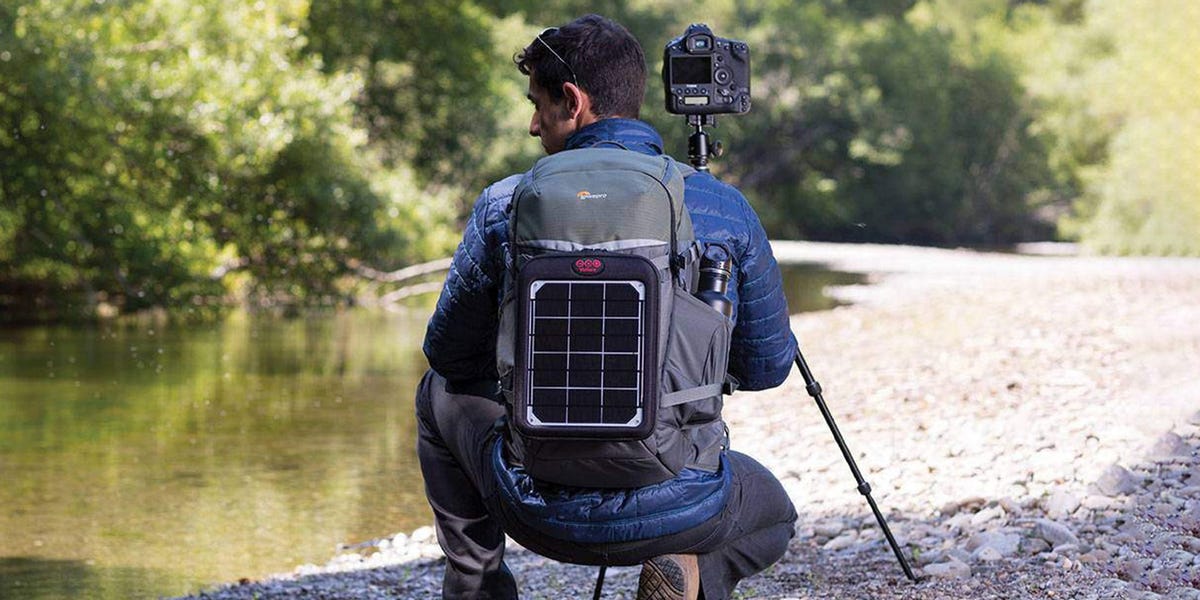 The Best Camera Bags For Hiking and Backpacking
Lowepro You've got your camera, your extra lenses and your compact tripod. You even have
You've got your camera, your extra lenses and your compact tripod. You even have your route picked out, with the perfect shot at the end of the trail. You've got everything you need, except… a way to haul your expensive, delicate camera equipment across miles of challenging terrain.
Not to worry. For all you outdoorsy photographers out there, there's a whole wide world of camera packs and backpacks, made just for packing up your stuff, slinging it on your back and hiking out into the sunrise (or golden hour, depending on what you're shooting).
Not all camera backpacks are created equal; there's a specific bag for each person and purpose. That's why we decided to collect the best of the best right here, for all types of adventurers. Now, all you need to do is plan your trip.
Advertisement – Continue Reading Below
Best Overall
Lowepro Flipside Trek BP 350 AW
Meets the needs of beginners to pros
Lowepro's camera backpack is easily the most versatile on this list — it's built to carry camera equipment as well as enough personal gear for a day outdoors. The Flipside can fit a DSLR camera kit, extra lenses and a 10-inch tablet, a compact tripod, personal items like a jacket, wallet and knife and water bottles, and has a split camera compartment as well as open space sections for extra organizing power.
Aside from the ample storage, the other defining feature of this pack is its secure side-body access: thanks to the new hinged panel, you can access all of your camera gear, without taking the pack off. For anyone familiar with lugging around a camera backpack in the wild, this access alone seals the deal.
Fits: Standard DSLR with attached lens, 1-2 extra lenses, compact tripod, 10′-inch tablet, personal items, water bottle(s)
Weight: 3 pounds
Waterproof: No
Best Upgrade
Wandrd Fernweh Backpacking Bag
Highly capable
Bundle options help you save
Over-engineered for a beginner
If you're looking for a mix of luxury and capability, you've come to the right place. Wandrd's functional camera/backpacking bag has everything a photographer needs to get out into the wild, and more. The pack features four access points to the main body of the bag, as well as quick side camera access. There's a removable bucket to segment gear, as well as a hydration sleeve for a bladder, if necessary. The Fernweh's outer is coated with a durable PU coating, and the foam and mesh back panel keeps things breathable, even on long hikes.
If you're an accessory aficionado, consider one of Wandrd's bundle packs, which pair the pack with an array of photo accessories (and save you money in the process). For anyone looking for a one-stop shop to meet their camera hauling needs, this bag is it.
Volume: 50 liters
Weight: 5 pounds
Waterproof: Yes
Best Budget Pick
Bagsmart Anniston Camera Backpack
Casual style fits in town or on the trail
Smart and simple design, plus an affordable price make this bag an easy purchase for beginners and hobbyists alike. At less than $100, the Anniston packs quite the punch: it comes with removable, customizable, padded dividers that keep gear organized and protected. The outer canvas is waterproof and durable, so you can take it out rain or shine. The Anniston lacks the technical features and build of a true backpacking pack, but for beginners or price-conscious photographers, this bag will do the trick.
Fits: 1 DSLR camera with 70-200mm lens attached, 3-5 standard lenses and other camera accessories
Dimensions: 11.8 x 7.5 x 15.7 inches
Waterproof: Yes
Best Minimal Design
Peak Design Everyday Backpack
Unobtrusive design protects gear
Known for its capable and accessible construction, Peak Design continues to be a top choice for photographers who need to lug their gear through urban jungles as well as literal ones. The selling point of the Everyday Backpack isn't its three configurable FlexFold dividers, expandable side pockets or 100-percent recycled 400D weatherproof shell, although those are all well and good: It's the minimal and unobtrusive design in which they're all housed. When you're lugging around thousands of dollars worth of camera equipment on your back you really don't want to draw attention to yourself. The Everyday Backpack is a subtle star: it's durable, well-designed and ready for whatever you throw at it.
Capacity: 17L min, 20L max
Weight: 4.43 pounds (with dividers)
Waterproof: Yes
Best Camera Cube
Mountainsmith Tan Kit Cube
Created in collaboration with one of the most popular outdoor photographers out there
Often sold out due to popularity
Designed in collaboration with outdoor photographer Chris Burkard, this shoulder-style bag draws on the expertise of the legendary photographer. Equipped with a water-resistant exterior and CORDURA fabric, the Tan Cube is durable as well as convenient: pack it into your backpack, carry-on or luggage, and turn any bag into a camera bag. The padded compartment and internal divider allow you to customize your carry, depending on which cameras and lenses you're bringing on your next adventure. The color-coded pockets and high-visibility yellow interior allow for organization on the go, so you'll never be searching for that extra memory card.
Dimensions: 7.25 x 10 x 5 inches (medium)
Weight: 15 ounces (medium)
Waterproof: Yes
Most Rugged
Chrome Niko Camera Backpack 3.0
Built to withstand the elements
Chrome Industries is known for its cycling equipment, but the brand also makes useful and well-built bags. The Niko is an equipment-hauling workhorse built with 25 years of bag-making know-how. The low-profile bag can house a camera, lenses or drone, and a 15-inch laptop.
Updates for the new 3.0 include side door access to the main compartment, a larger, padded laptop sleeve, and additional external and internal pockets to keep your camera, lenses, memory cards and accessories available and easy to grab.
Volume: 25 liters
Weight: 4.41 pounds
Waterproof: No
Best for Professionals
Gitzo Adventury Backpack (30L, Green)
Gitzo's Adventury pack is made for professionals in mind: multiple carry options, durable construction and plenty of storage put this backpack at the top of our list.
Whether you're in an urban environment or hiking to your favorite peak, Gitzo's well-proportioned pack can handle what you throw at it. Weather resistant materials, coated bottom fabric and zippers and an included rain cover protect the pack from the elements. Multiple handles offer a variety of carry options, and plenty of pockets ensure you can bring whatever accessories you'll need for the job.
Thanks to its efficient design, which utilizes compartments, daisy chain loops and multiple handles the Adventury can hold a a DSLR or mirrorless camera with telephoto lens attached, four to six extra lenses, a 13-inch laptop, a full-size tablet, accessories and a tripod.V
Volume: 30 liters
Weight: 4.52 pounds
Waterproof: Water-resistant
Best Color Combo
Thule Enroute Camera Backpack 25L
Modular design makes for easy packing
The embodiment of not judging a book by its cover, Thule's most exciting feature is the bright blue colorway of the internal compartments. Aside from technical attributes, part of the fun in owning a bag, jacket, hiking shoe or any other outdoor gear is the aesthetic appeal.
Any time you open up this bag, the vivid color will not only put a smile on your face, but make it easy to sort and identify your camera equipment. The customizable, origami-inspired dividers quickly adjust, and should you want a lighter load, the protective camera pod can be removed and carried on its own (or stuffed into another bag, if need be).
Thule's camera backpack is simple, straightforward and easy on the eyes.
Volume: 25 liters
Weight: 4.1 pounds
Waterproof: No
This content is created and maintained by a third party, and imported onto this page to help users provide their email addresses. You may be able to find more information about this and similar content at piano.io
Advertisement – Continue Reading Below